Business Issue
In November 2012, a major publishing and financial information company launched a multiyear effort to upgrade its Content Acquisition and Enrichment Platform. This platform is a suite of legacy software applications and services that automatically receives as many as one million articles per day from more than 1,700 content providers. The platform analyzes the articles to determine what they are about; extracts important names of people, names of companies, dates, locations, events, facts, sentiment, and other information; and appends this metadata to every article. This metadata is used to improve customers' user experience and search results across all of the company's products and services.
Iknow was selected to provide the business consulting, technology consulting, and systems integration services for this platform upgrade initiative.
When we began this effort, we learned that the company did not have up-to-date documentation about their platform. In fact, most of the system components did not have any documentation and the only knowledge about how the system components worked was in the heads of some technical staff and in a few high-level PowerPoint presentations. Therefore, we began this major platform upgrade by documenting the current-state process and information flows.
Approach
Iknow cataloged and documented all of the major components of the Content Acquisition & Enrichment Platform. The team prepared detailed text descriptions and IDEF0 functional models for 46 major system components.
Iknow approached the project by assigning its project team members to major functional areas of the platform. Each Iknow consultant conducted dozens of one-on-one and group interviews. Using a variety of elucidative techniques, the information was obtained from the individual technical experts, captured on paper, and then converted into electronic formats.
An example of an information flow map is shown in the exhibit below.
Example of an Information Flow Map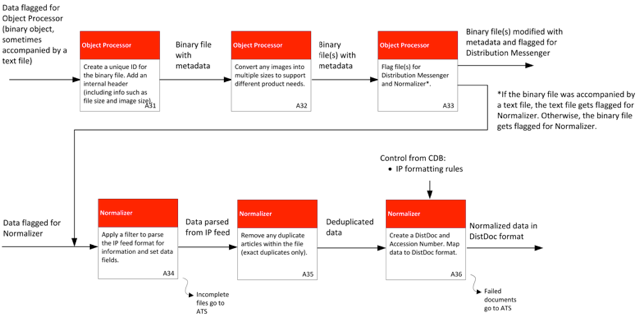 Results
At the end of this documentation exercise, the company had a complete, accurate, and current description of their Content Acquisition & Enrichment Platform. The documentation incorporated standard component description templates and standard process flow-mapping conventions. The component descriptions document provided a common reference for describing the components and component interfaces for all the subsequent project phases. This documentation served as the "single source of truth" for the subsequent systems upgrades.