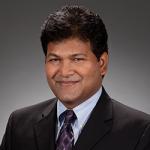 Senior Solution Architect
Location
Princeton, New Jersey
Summary
Mr. Rengarajan (Vijay) Ragavan is a Senior Solution Architect at Iknow. Mr. Ragavan designs and delivers sophisticated knowledge management solutions for Iknow's clients. He has over 17 years of consulting, project management, and solution architecture experience.
Throughout his career, Mr. Ragavan has successfully deployed numerous software applications to solve a variety of business problems using a diverse set of technologies, including enterprise content management, collaboration, expertise location, call center optimization, team-based security, digital asset management, text analysis, and business intelligence.
Prior to joining Iknow, Mr. Ragavan was a Systems Architect at ITC Infotech (USA) Inc., an India/UK-based multinational software development company. While at ITC, Mr. Ragavan architected and built numerous software applications for various clients in the United States and Europe.
Career Highlights
Examples of recent client projects include:
Mr. Ragavan architected and implemented a sophisticated, cloud-based, predictive analytics solution for a top-tier financial news aggregator. The solution monitors millions of news content received every day from around the world, proactively identifies problems with the deliveries, and sends alerts to the appropriate user groups. The application also presents high level statistics about the problems to decision makers using interactive dashboards. This solution was built by integrating a very large database that accumulates millions of records per day in a legacy infrastructure, with a cloud infrastructure for anywhere access to the solution.
Mr. Ragavan architected and implemented a comprehensive supply chain intelligence solution for a major defense manufacturer. The application collected and analyzed data from multiple government and third-party sources using a variety of structured and unstructured data processing methods and enabled proactive decision making while finding and vetting suppliers for their upcoming contracts. The system used sophisticated text analysis software to analyze and extract information about potential suppliers from unstructured data and provided this information in an interactive dashboard that made review and comparison of these suppliers much more intuitive.
Mr. Ragavan designed and implemented an unstructured text processing solution for a top-tier financial news aggregator. The solution analyzes millions of news content received from sources all over the world every day by the firm, parses each piece of content, and categorizes and tags it with rich metadata extracted from the text along with predefined entities from a controlled list. He successfully migrated various pieces of custom applications developed over the years by various groups into a single processing pipeline with a centralized COTS text analytics tool and implemented a web services model.
For a leading telecommunications firm, Mr. Ragavan designed and delivered a knowledge management (KM) application for its customer call centers. The solution suite consisted of a combination of enterprise content management, collaboration, records management, and portal and search functionality using best knowledge management practices that were aligned with the requirements of its diverse users. Mr. Ragavan identified and migrated huge repositories of legacy content and related digital assets that were to be managed using the new KM solution. For the client, the resulting solution greatly enhanced and increased the number of first-call resolutions, overall customer satisfaction, customer retention and created new opportunities to up-sell/cross-sell.
For a risk management firm, Mr. Ragavan used text analysis tools to extract risk management information from a wide variety of unstructured data sources and applied commercial crowdsourcing for vetting and fact checking the extracted information. The solution used a complex rule-based intelligence extraction engine that parses over 600 different sources including websites, court documents, and SEC filings to collect, organize, analyze, and deliver the risk information.
Mr. Ragavan helped a large pharmaceutical company organize its huge repository of historical research papers and related documents by generating multiple taxonomies and then automatically categorizing the documents in the repository using text analysis and "learn-by-example" (LBE) techniques. As a result, the information in the repository dating back to 1992 that was not available for consumption earlier became easily discoverable, providing users with vital information that was classified and placed into logical, business-driven taxonomies. This work also helped enhance the company's enterprise search rollout by enriching the search indices with key phrases and concept words extracted from the documents using the text analysis tools.
Selected Clients
Mr. Ragavan's clients include Accenture, Amgen, Boehringer Ingelheim, Dow Jones, Forrester Research, IBM, InfoBank Ltd. (UK), Johnson & Johnson, the Kingdom of Saudi Arabia, Mott's, Pfizer, Raytheon, the Royal Bank of Scotland, TrustMarque International Ltd., the U.S. National Institutes of Health, the U.S. National Parks Service, Vignette, and Verizon.
Education
Mr. Ragavan received a master of computer applications degree and a bachelor of science degree in physics from Madurai Kamaraj University, India.
Select Expertise
Technology Services
Business Intelligence
Business Process Management
Collaboration
Document Management
Enterprise Content Management
Enterprise Search
Portals and Websites
Taxonomy
Text Analysis