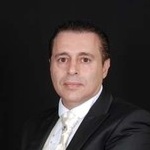 Consultant
Location
Falls Church, Virginia
Summary
Mr. Marwan A. Awad is an information system technology professional with over 25 years of diverse U.S. and international experience in areas of help-desk support to stand-alone and server operating systems. He has experience in human language technology (HTL), providing support and guidance to efforts pertaining to artificial intelligence (AI). He has provided assistance and direction to efforts pertaining to AI in support of several Federally Funded Research and Development Centers (FFRDCs).
Mr. Awad is conversant with wide range of commercial software packages that are designed for personal computers, network management, and media exploitation tools (i.e. data extraction, annotation, translation, capture and transcription of various media).
Mr. Awad is a native Arabic speaker and subject matter expert on Modern Standard Arabic and regional Arabic dialects. He is proficient in nine Arabic dialects, including those of the Levantine and Arabian Gulf regions. He is familiar with various Middle Eastern cultures and customs, and has a knowledge of Islamic jurisprudence and traditions.
Career Highlights
Technical Consultant, Iknow LLC 2019-present.
Desktop and Network Support Consultant, Flexis Tech LLC, 2013 – 2018. Built network and data infrastructure to meet professional IT Industry standards. Analyzed IT solutions to meet business needs and requirements. Assisted in planning, design and implementation of full IT Infrastructure to support multi-platform data structure.
Systems Engineer, MITRE Corporation, 2007-2013. Provided pertinent linguistic data, input and support for Machine Translation systems (MT) and Artificial Intelligence (AI) projects in the Human Language Technology (HLT) innovation area. Supported the development and enhancement of user interface (UI) designs to various MT and speech recognition computerized systems.
All Media Analyst, L3 Technologies-Titan Corporation, 2002-2007. Mr. Awad provided identification and extraction of essential elements of information from large variety of media including handwritten materials, video and audio recordings, and other electronic media. He oversaw the daily time reporting and other administrative duties of 35 company employees.
Technical Support Consultant, The American Open University, 2001-2002. Provided technical support to office staff and off-sites campus users, maintained and managed remotely connected workstations to the main offices using remote communication software package.
Technical Team Leader, Department of Justice, Immigration and Naturalization Services (INS), 2001-2002. Mr. Awad provided desktop and network technical support for about 200 local users and over 1500 nationwide users. He spearheaded a project to enhance the Tier I and Tier II communication and data-entry quality by standardizing the trouble and solution descriptions in the INS help-desk database system (Remedy). Mr. Awad led a team of IT professionals to deploy and implement local and Wide Area Network designs for the INS headquarters, sub-offices and border patrol stations nationwide.
Computer Specialist, Getronics Government Solutions, 1999-2001. Mr. Awad was the technical team leader providing desktop and network technical support.
Selected Clients
Mr. Awad has worked for several U.S government agencies, including the DOD, DOJ, DHS, HUD, National Science Foundation (NSF), and National Institute of Standards and Technology (NIST), and commercial companies, such as MITRE Corporation, Basis Technology, Lockheed Martin, Booz Allen Hamilton, L3 Technologies, Computer Sciences Corporation, and Raytheon.
Education
Master of Arts degree in Social Science, California University of Pennsylvania, Current.
Bachelor of Arts degree in Arabic Language and Culture, California University of Pennsylvania, Current.
Associate of Science degree in General Studies, Northern Virginia Community College, 2008.
Associate of Applied Science, Information Systems Technology/Network Administration, Northern Virginia Community College, 2003.
Personal
Language fluency in Arabic (Native) and Farsi (R/W/S).
Select Expertise
Content Services
Technology Services