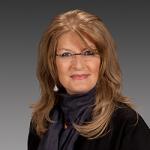 Creative Director/Lead Graphic Designer
Location
Princeton, New Jersey
Summary
Ms. Isabella D. Palowitch is the Creative Director/Lead Graphic Designer and a User Experience Specialist at Iknow. She has extensive experience in corporate identity, branding, website design, educational materials, medical communications, book design and production, and marketing publications and promotions. Ms. Palowitch has more than 25 years of experience in the graphic design industry.
Ms. Palowitch is also the Founder and Owner of ARTISA LLC, a graphic design boutique located in Princeton, New Jersey and founded in 1994. ARTISA has served prestigious corporate and not-for-profit local, regional, national, and global organizations.
Ms. Palowitch's unique approach to graphic design is rooted in the fine arts. Her designs are strongly influenced by the fundamental artistic principles of proportion, color, composition, and expression. She works with each client individually, to understand the core elements of the marketing messages and unique subtleties that differentiate the client from his/her competitors, and thereby creates the optimal communication for a given target audience.
Career Highlights
Over the past two decades, Ms. Palowitch's graphic design experience includes:
Award-winning color print materials for the 250th Anniversary Celebrations of Princeton University (numerous CASE Gold Awards).
Lead designer for the first Princeton University website (1996–1998).
Lead designer for Princeton Symphony Orchestra since 1998. The professional graphic look contributed to the Symphony receiving several New Jersey State Council on the Arts Citation of Excellence Awards (2009–2012).
Cotsen Children's Library (part of Princeton University's Firestone Library) virtual exhibits attracting a Scout Report on February 13, 2009 for "easiest-to-use" website.
Creating image pieces for private schools in the Princeton area (Chapin School, Princeton Academy of the Sacred Heart, Stuart Country Day School), including fundraising brochures with remarkable results.
Produced art books and catalogues that sell in major museums, such as The National Gallery of Art Washington, DC, Museum of Modern Art, European museum stores, and online at Barnes & Noble and Amazon.
Designer of Iknow's award-winning graphic identity.
Other awards received for design and printing excellence are from organizations such as Graphic Design:USA, Neographics, Benjamin Franklin Premier Print, Astra, and Art Direction Magazine.
Designed lasting logos and graphic identities for organizations such as Princeton Academy of the Sacred Heart, Princeton Alumni Council, Princeton Pediatric Group, and others.
Selected Clients
Ms. Palowitch's clients include the Center for Women in the Arts and Humanities (Rutgers University), Infinity Flight Group, the Historical Society of Princeton, Princeton Pediatric Group, Princeton Symphony Orchestra, Princeton University, Superior Court of New Jersey, and the Zimmerli Art Museum (Rutgers University).
Education
Ms. Palowitch earned a master of fine arts degree from the Mason Gross School of the Arts, Rutgers University and a bachelor degree in art and art education at the Institutul Nicolae Grigorescu, Bucharest.
Personal
Isabella is an accomplished fine artist and has exhibited her paintings and drawings in New York, Philadelphia, Paris, Madrid, Vienna and Bucharest, as well as in several art publications.
Isabella is fluent in six languages (English, French, Spanish, German, Romanian, and Hungarian).